Your Child's First Visit
Preparing for Your Child's Dental Visit
It is important to introduce children to proper oral hygiene at a young age; developing healthy habits early is a crucial part of preventing future oral health issues. The American Academy of Pediatric Dentistry recommends establishing a dental home for your child by 12 months of age or 6 months after the first tooth erupts. By visiting Just for Kids Pediatric Dentistry and our Naperville children's dentists, Dr. Eryn, Dr. Maribel, and Dr. Rosa, at an early age, we are able to help establish healthy home care habits and prevention methods.
As a parent, there are a few steps you can take to make your child's first visit to the dentist enjoyable and positive. Children should always be informed of the visit; if you try to coax your child into visiting the dentist or offer a reward for good behavior during the dental visit, they may associate the dentist with something unpleasant. You want to let your child know that the dentist and staff will explain all procedures and answer any questions.
It is best to refrain from using words around your child that might cause unnecessary fear, such as needle, pull, drill, or hurt. Our Naperville children's dentists and staff make a practice of using words that convey the same message, but are pleasant and non-frightening to a child.
Brushing and flossing techniques, healthy snacks, sealants, and fluoride recommendations are just some of the topics discussed during your child's initial cleaning and exam appointment.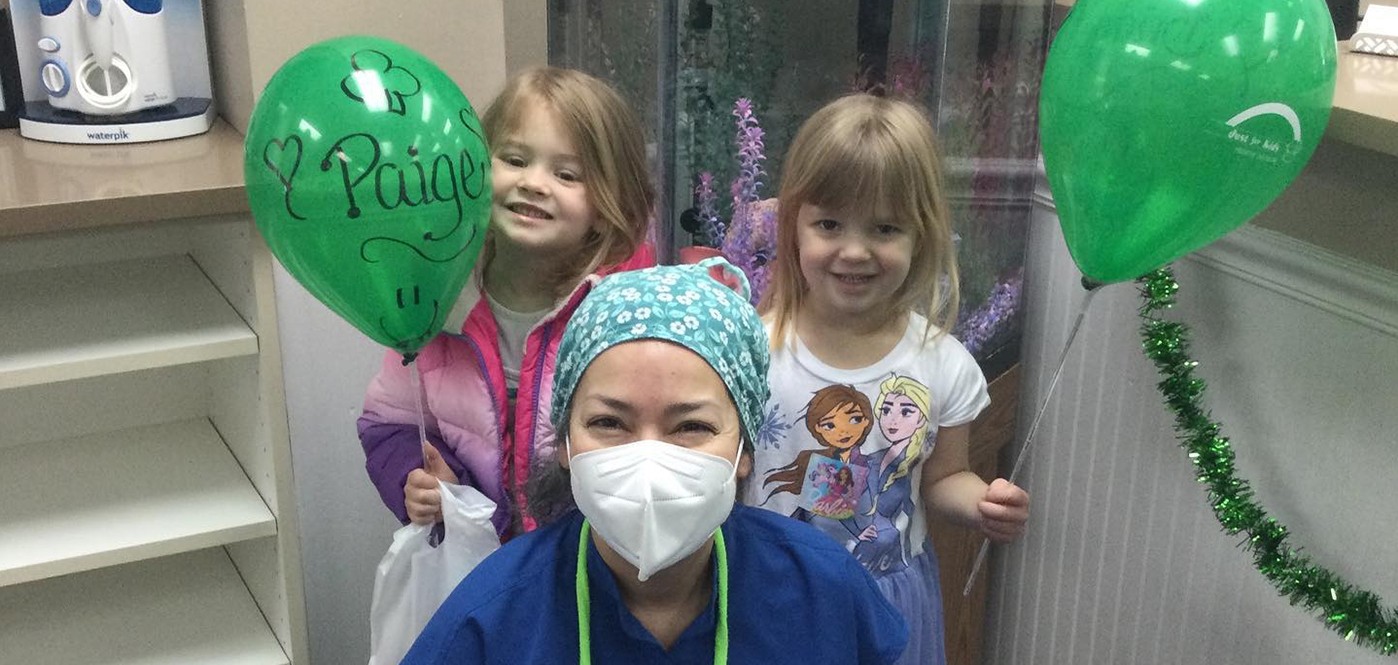 What to Expect During Your Child's First Dental Visit
Your child will be seen on time; the only time your appointment would be delayed is in the case of an emergency.
The first person your child will come into contact with will be one of our friendly assistants. They will come out to discuss what will be done during the appointment with both you and your child. The assistant will then take the child back while you wait. We will show your child the office and offer explanations for any questions they may have.
Our children's dental visits will always start with a general cleaning and x-rays, if needed. After the cleaning, we perform a complete exam and look for any abnormalities including difficulty breathing, infections, or ulcers. This allows us to examine the soft tissues for any lumps or bumps that should not be there and check the development of the teeth, bite, and jaw for any issues that could suggest future problems.
We are careful to monitor your child's level of comfort during treatment. If at any time we feel the child is uncomfortable or wishes us to stop, we can pause and even modify treatment to help ease their fear or discomfort. After we finish the cleaning and exam, we will apply a fluoride treatment. At this time you will be brought back to discuss the findings with your child and Dr. Eryn, Dr. Maribel, and Dr. Rosa.
Within a couple weeks of the visit, your child will receive a letter in the mail with a photo of them and Dr. Eryn, Dr. Maribel, and Dr. Rosa, to help remind them the dentist is their friend. We also send every child a card on their birthday. These reminders help to build a relationship with our office and establish trust between your child and our Naperville children's dentists, Dr. Eryn, Dr. Maribel, and Dr. Rosa, leading to comfortable, productive visits.
Contact Us
Monday
Tuesday
Wednesday
Thursday
Friday

Saturday

Sunday
8:00 AM - 1:30PM
9:00 AM - 6:30 PM
8:00 AM - 5:30 PM
8:00 AM - 5:30 PM
8:00 AM - 1:30 PM

Closed

Closed